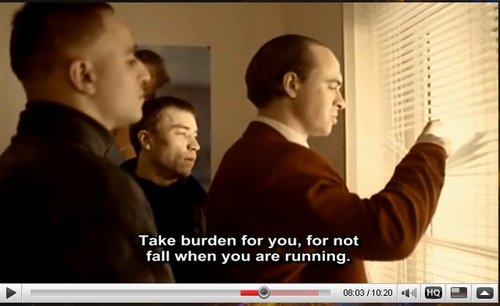 I didn't expect a Russian gangster movie to be this good. After I finished watching Brat (Brother) tonight, I was walking around the house, thinking about what I had seen, wondering why I was attracted to such a violent, repulsive movie. But then it occured to me that this film has some Doestoevsky-like qualities to it.
I would guess that I'm not the first person to have said so.
The person who did the subtitles didn't have a good command of English. But it probably wouldn't seem right if they were done better. They fit. The one in the screenshot doesn't make enough sense for me to understand what was so funny about it, but maybe it's better that way. The WikiQuote page for the film is also a mess — just right for the film.