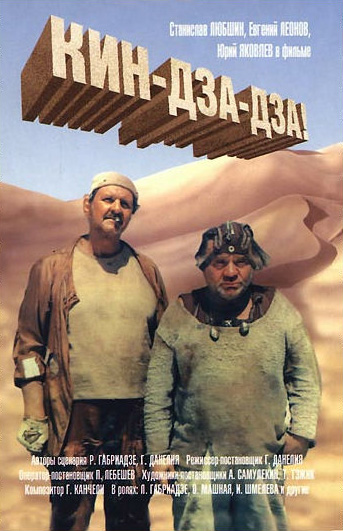 Here's a movie that goes Andrei Tarkovsky's Solaris one better. Solaris itself was somewhat of a reaction against Stanley Kubrick's 2001: A Space Odyssey. 2001 featured gleaming high-tech on a massive scale. In Solaris, the space vehicle is somewhat run down and the protagonist goes around in a soiled shirt.
But that's nothing compared to Kin-dza-dza, which came out in Russia in 1986. Two of the interplanetary space travelers are pictured above. (It's a photo of the VHS cover. I cobbed it from Wikipedia.)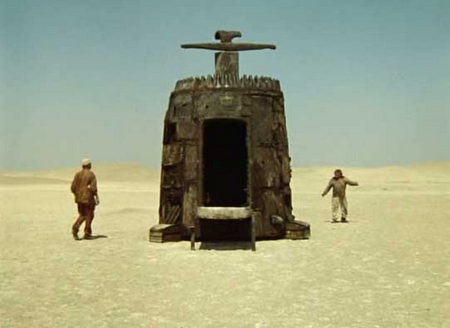 And here is their spacecraft. (Photo cobbed from the same source as the above one.) It's a creaky rattle-trap rustbucket, but it does work.
This movie isn't on Netflix. There is no official English-language subtitled version. But it's on YouTube, with subtitles, in 14 parts. I happened upon it last night. I haven't nearly finished watching.
I'm not a big science fiction fan, but small doses like this are great. It's had me laughing. Wikipedia says it's somewhat of an allegory of Soviet society, but somehow made it past the censors anyway. I don't know about that — maybe it applies to tourist behavior and social relationships in general. Whatever it is, it's fun to watch.
Here, for my convenience and that of anyone else who cares, are links to all 14 of the segments. It can be somewhat of a nuisance to find them in order using YouTube's search.