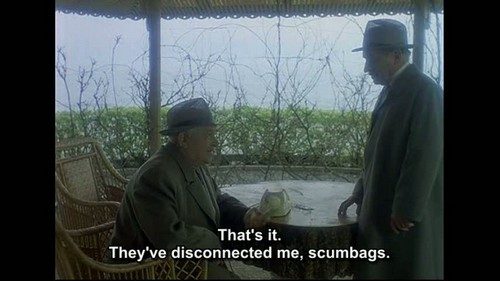 Over at Cape Girardeau History and Photos, Ken Steinhoff posted a 1960s photo of a man wearing a straw cap of what I call the French Foreign Legion style.   It elicited some admiring comments.
It also reminded me of another type of hat from the same era — A type of dress hat that I've seen in at least two Russian movies.   These are not movies from the 1960s, but are set in the late 50s and 60s.   The first is Serye Volki, in which Nikita Khrushchev and Anastas Mikoyan are wearing see-through dress hats.  I presume these were considered good for the relatively warm weather of Crimea, although in this case it was October 1964 and Khrushchev was in the process of being removed from power.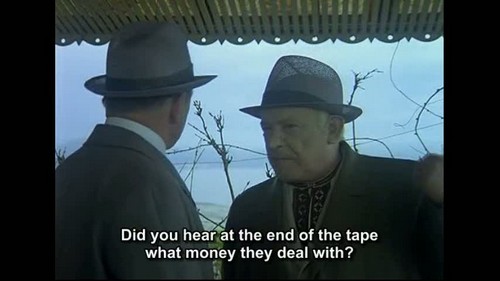 The hat is so transparent that you can even see Khrushchev's (Rolan Bykov's) bald head through it.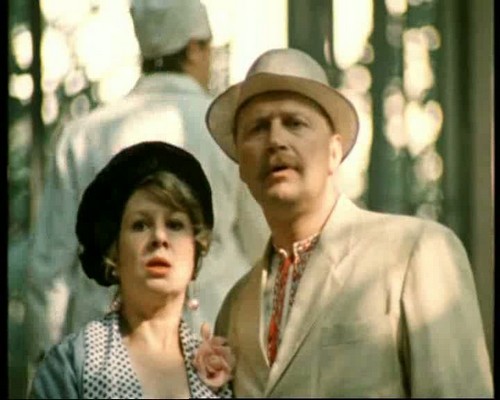 This hat, worn by the Savva Ignatevich character in Povrovskiye Vorota, is not quite as transparent, but in the movie (as opposed to screenshots) you can more easily see that it's a porous material.   It goes well with his white summer suit.
Were hats like these ever worn in the United States?   I don't recall ever seeing any, but then, where I lived as a kid I  never saw a man wearing a white summer suit, either.   I'm pretty sure they existed.
One thing we didn't have in the U.S. (unfortunately) is the kind of Ukrainian shirt the Khrushchev and Ignatevich characters are wearing.  I presume there's a name for it but I don't know what it is.  (I'm not even sure it's Ukrainian, as opposed to Russian.)