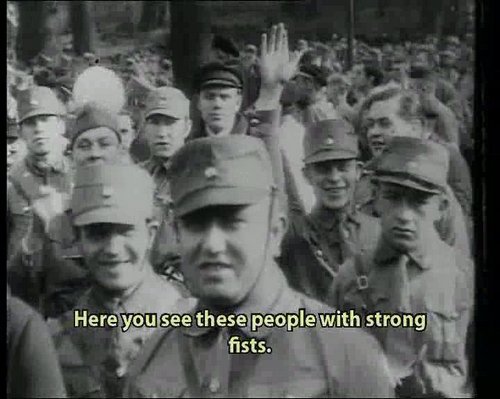 Now I wish I hadn't put off watching Obyknovennoye Fascism (Ordinary Fascism) for so long. I didn't expect something like this at all. Yes, it gives the leftwing version of the social origins Hitler and Nazism, which is pretty much the same story as you get in documentaries made in the United States. But it sometimes strays and becomes more informative than anything I would have expected from either the Soviet or U.S. media.
It's produced and narrated by Mikhail Romm, using a lot of footage that I presume was captured at the end of the war. The story is told with a wry humor — not at all the strident tone I had expected. (I say this based on the first 40 minutes. It wasn't easy to make myself stop at our daily quota mark.)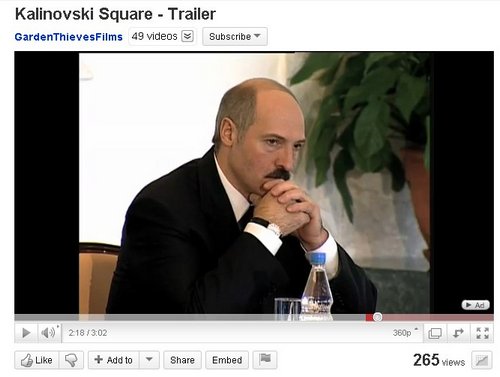 After the first 20 minutes, I remembered where I had encountered this style before. It was in Kalinovski Square, which tells about the 2006 election of the Belorussian dictator, Aleksandr Lukashenka and his dissidents. The web site for the documentary has this blurb:
"In this hilarious and entertaining yet hard-hitting documentary, veteran director Yuri Khashchevatski pokes fun at the powerful elite in his home country of Belarus by telling his version of the truth—and illuminating the absurdity of reality. His preferred method of dealing with heavy topics is a light touch of a sharp knife—followed by a quick twist of the blade and a little salt in the wound." — Silverdocs, Bill Gilcher.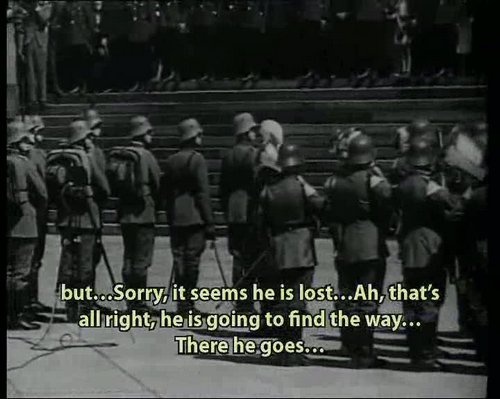 I've got to wonder if Khashchevatski consciously copied the technique of Mikhail Ramm. The above scene featuring the bumbling Chancellor Hindenburg was done much like the one pictured in the screen shot of Lukashenka. The narrator's voice, the tonal qualities, the timing, the relationship of narrator to subject and to audience — all very much alike in the two documentaries, one of which was done in the mid 1960s and the other fairly recently.