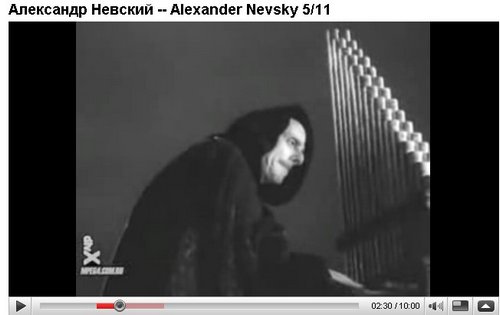 On my ride home from work tonight, I listened to some of the book of Luke from the Russian bible I downloaded from the Faith Comes by Hearing site. Occasionally I listen to it while exercising on our elliptical machine, usually with a printed version of Russian and English to study alongside. Sometimes it takes me an entire 20- or 30-minute session to work my way through one chapter. Though when there's a Big Ten basketball game on TV, I usually watch that while exercising instead of working on Russian. But when there's no game on TV, I'll work on Russian. I'm also reading "Wintering Station on Chill River" by D.N. Mamin-Sibiryak in a bilingual printed version.
But there's no audio for that, so for bicycling I listen to a movie soundtrack, or some Russian songs, or in this case, the Bible.
I got the slightly dramatized version of the Russian Bible. Several years ago I got a "Parole de Vie" Bible (limited-vocabulary French) from these same people. (It's a long story, but it came about when our pastor called my bluff.) That recording seems to have been produced by French-African people. I thought the dramatization was very nicely done. The various voices are good, and the music or other background sounds were just the right touch — not overdone, and it stands up to repeated listening — but stands out just enough to be an aide to listening. You even get a Caribbean flavor with steel drums in a few places where it's just the right thing.
So I had high hopes for the Russian bible, though I was worried that the dramatic effects might be overdone — like the gaudy stage settings on a lot of Russian music programs one can see on the Internet. But instead, it's underdone. It's no huge problem, because the voices are good, but I am a little disappointed.
What's especially disappointing is that the musical accompaniment is often in the form of organ music. Who ever heard of pipe organ music in a Russian anything? I enjoy organ music by Bach or Saint Saens. But it just doesn't seem right for Russian. Do they even have pipe organs in Russia? The only pipe organ I've ever seen in a Russian movie is the one pictured above in Sergei Eisenstein's "Alexander Nevsky" — and it's one of the evil enemy German clerics who is playing the thing. For Russian they should use a garmoshka, piano, or guitar, shouldn't they? Or better yet, all of the above. You see those in lots of Russian movies, anyway.
It could be worse. At least it's an understated organ accompaniment. But I still find it somewhat disconcerting, and probably would even if I had never seen that Alexander Nevsky movie.