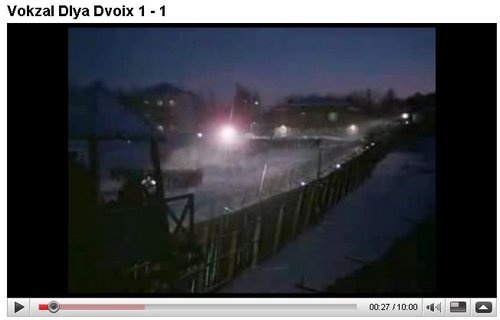 The film Railway Station for Two begins and ends with a scene in a Siberian gulag. The above screenshot is from the opening scene. Excellent gulag photography in this film, btw. I love the above scene — not as a place to be, of course, but as an excellent portrayal of a northern winter in such a setting.
In Anna Lawton's 1992 book, "Kinoglasnost: Soviet Cinema in our Time", she says this about the movie:
Because of a car accident caused by his wife — a materialistic woman representative of the nouveau riche mentality — he is serving time in a labor camp, and is in fact hurrying back to prison after a brief leave."
That's not quite the way I understood it. I hesitate to say so, because Lawton speaks Russian and I don't — certainly not enough to understand the parts of the movie where this is explained. But I can see what's told in pictures.
My understanding is that most of the movie is a flashback. There are occasional flash-forward scenes to the gulag, but at the railway station, the character played by Oleg Basilashvili had not yet begun to serve his three year sentence. You can tell just from the haircut. At the railway station he still has the full head of hair appropriate to a concert pianist. In the prison it's cut very short — there seems to be a standard-issue haircut for all Russian movie prisoners. It helps to make the point of how people in prison are dehumanized. (Though I think in some of the scenes they cheated a little and let him have a little more hair than most movie prisoners get.)