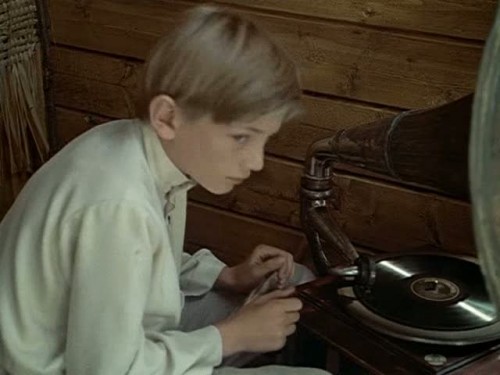 Last weekend I watched Neokonchennaya pyesa dlya mekhanicheskogo pianino again — the first time in maybe a year.
The boy in the screen shot is playing a recording of what sounded like something from an Italian opera.  I don't know much about opera, but I got to wondering what it is, and what it's significance is.
It turns out that somebody already asked about it at answers.com.  The answer:  It's the aria, Una furtiva lagrima, from  Gaetano Donizetti's  L'elisir d'amore.     Wikipedia has the lyrics with an English translation, as well as a recording done by Enrico Caruso in 1911.   My untrained ear likes Caruso's rendition of it more than any of the others I've found on YouTube.   The one in the film is pretty good, though.   In the closing scenes we get to hear the complete aria, as opposed to the fragments that were played earlier.
I dug out my wikipedia password and updated the aria's page to add Unfinished piece for player piano to the list of films in which it is heard.
As to the significance of using that piece, I suppose it fits the film because it's about sweet illusions of love, of which there are a few in the film.   It also fits in that it's about the gulf between different socio-economic classes
A side note.  The opera comes from a period of special interest to me.   It premiered on May 12, 1832, which was two days before the battle at Stillman's Run, the violent clash that set off the Black Hawk war.
I almost forgot to mention that it's on video.google.com, with English subtitles.