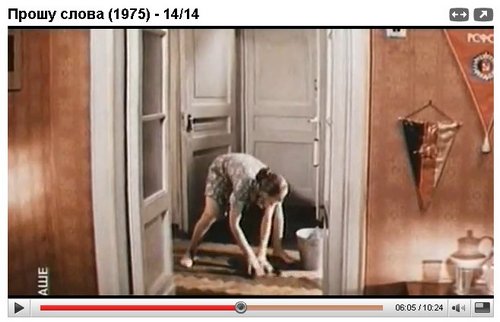 Last week I tried washing our kitchen floor the way I've seen it done in Russian movies. It's a way to do a good job of it, but it's not that easy. I haven't done enough of it to decide whether the method should help Russian women stay young and agile, or if it would age them prematurely.
Last fall I took a one-night-a-week class in conversational Russian at MSU. In a session when our teacher, a young woman from Ukraine, was teaching us how to describe some household activities, I asked her if Russian woman really washed floors the way it's shown in the movies. She said they did. I never got around to blogging about it until now, though.
The scene above is from Proshu slova, which I just finished watching. Below is one from Vor. There is also a floor-washing scene in Komissar, in which Klavdia Vavilova, played by Nonna Mordukova, in the brief domestic phase in her life is down on the floor washing it with rags. But she is down on her knees, which is not quite the same thing. IMO it's a lot easier that way. I would guess that the reason women would do it in in a squatting position is not because they're trying to save their knees but because they're trying to save their clothes. Also, they can move around a lot faster and get the job done more quickly, even though it requires more effort.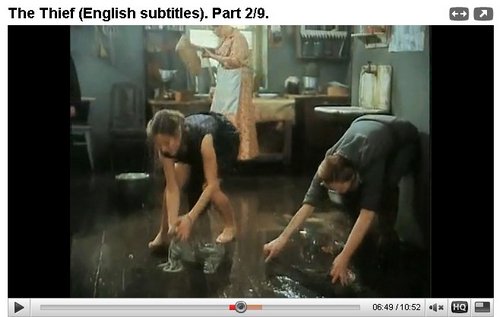 So now I have made a start on another category of scenes to collect: Floor washing scenes.
But I think the scene from Proshu Slova also fits another category that's found in quite a few Russian movies. I'm not quite sure what to call it, but I'll try to describe it in another post. There is a scene in Semnadcat' mgnovenii vesny that I hope to find for the sake of comparison.