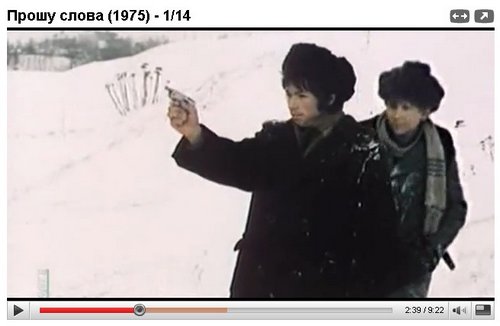 When I first started watching Russian movies from the Soviet days, I was surprised by the prevalence of guns in civilian hands. Like in this 1970s movie, where some kids get a handgun, albeit with tragic results. Kids also get their hands on a gun in Balkon, but I've barely started watching that one, so I don't know how it turns out.
I got to thinking of it because of a recent fuss over guns on the bicycle touring list. Every once in a while someone brings up the topic of packing a gun while touring. There are those who object to the idea, and I'm pretty much on their side as it applies to me. But others go a lot further than just giving all the reasons why it's a bad idea for most people. One person doesn't mind if other people do it, as long as they don't ride with him. I would not discriminate on such grounds myself, though I'm a solo rider so it's not an issue.
Others – some of them from other countries – think it reflects badly on the United States that we even talk about such things. But is the United States the only country with a gun culture, so called?
Somehow I once had the idea that there was not much private ownership of guns in the Soviet Union, except perhaps for some hunters in remote parts of Siberia. The Nazis took away civilian guns in Germany, and I had the idea that all authoritarian states did the same. In the United States I think there was some kind of gun control movement in the South in the early-mid 20th century because the people in power didn't want African Americans to have guns. I don't know the details, though, nor do I know where to find them.
But I also recall an earlier surprise from long before I started watching Russian movies. It may have been in January 1991 during the troubles in Lithuania. We heard reports that the government was broadcasting a demand that the people turn in their guns.
What? Civilians in a Soviet-bloc country have guns? That was news to me. Since then I've brought it up several times in debates when gun control advocates sneer at the idea that civilians can use them to protect themselves from an abusive government.
So maybe I shouldn't have been so surprised about gun ownership in the Soviet Union, too.
I suppose it shouldn't have been a surprise that in a big country like that, with a lot of forested and open spaces, that there would be a need for guns for hunting. But what about handguns? Are the handguns that we see in civilian hands in movies all legit? Or was private ownership of them officially prohibited? How prevalent was the ownership of guns in general, and handguns in particular, legal or otherwise?